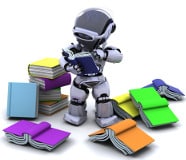 Podcast: Play in new window | Download
Subscribe: Apple Podcasts | RSS
Content Below Updated Jan 16, 2017
In this episode of the Niche Site Tools Podcast, I compare several of the most popular training programs on how to successfully sell products on Amazon.
Each of the courses mentioned in the Podcast are listed here below, along with a brief description.  These courses are constantly updated, so you can be sure you're getting the latest information available.

Amazing Selling Machine

This program involves sourcing products from suppliers (mostly overseas), processing the items, shipping them to Amazon and then Amazon fulfils the orders.  The program only opens up a few times a year, at most and it is by far the most costly, at $3,497.
Update: The Amazing Selling Machine course is currently closed. Look on the bright side, if you were trying to decide between ASM and the other options below, your decision just got a little easier. 🙂

Amazon Boot Camp
This is the course from Jessica and Cliff Larrew, which was featured on other several other popular Podcasts recently.  It is a step-by-step video course on how to sell on Amazon, through the Fulfillment by Amazon (FBA) program.
The course walks you through everything from start to finish, including multiple methods for sourcing products both locally and online.
Her program also includes a forum, with assistance from moderators and a 60 day money back guarantee. Cost is $349 and you can pay in full or in 4 monthly payments of $99, if desired.
On Dec 15, 2016, the course was updated to version 3.0, which includes the latest techniques to help you succeed in 2017 and beyond.
This course comes highly recommended for anyone looking for a step-by-step video training course, for selling on Amazon.
Click here for further details or to purchase Amazon Boot Camp

Proven Amazon Course


The Proven Amazon Course, put together by Jim Cockrum, is the one that I decided to go with for several reasons.
I really liked that they have a private forum, moderated by his staff and top students in the program, to answer any questions you might have along the way.
In addition, they also provide a private FB mastermind group, which is very active.
The best part is that they are constantly adding in new training components, which you would get for free, as a lifetime member.
Here is a screenshot showing only SOME of the latest additions for 2016.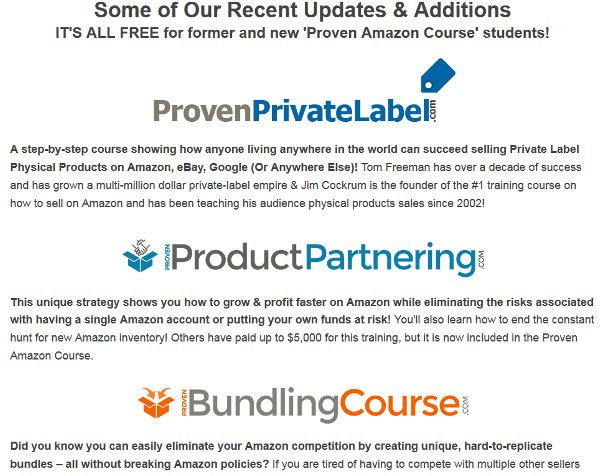 The program also comes with a no questions asked, full money back guarantee.  Cost is a one-time fee of $349, or you can pay in 3 installments of $128 each.
You can check out two screenshots from within the course, one of the main content page and another showing the private members forum.
You can see that the main page is well organized, showing you very clearly where to start and what to move onto next.
If you are considering the Proven Amazon Course, I would recommend acting now to lock in the current rate. The rate increases usually at least once a year, but that is only for new customers. Existing customers continue to get access to all new content free for life, after the initial purchase.
For more info or to purchase the Proven Amazon Course, click here.

Conclusion

I hope this Podcast Episode/post helped make you aware of the best training programs available, to help you create a successful work-from-anywhere business selling on Amazon.
Whatever you end up deciding, I wish you the best and hope you will come back and share your thoughts, experiences and success stories here in the near future!
____
Some of the links above are affiliate links. If you decide to make a purchase, I would receive a commission, at no additional cost to you.
You are of course under no obligation to go through my link, but if you do decide to do so, I sincerely thank you ahead of time!