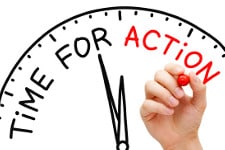 Podcast: Play in new window | Download
Subscribe: Apple Podcasts | RSS
All of us are subject to fear.  Fear of failure, fear of success, fear of the unknown and the list goes on and on.
We all have excuses or reasons why we have put off various projects, that we fully expected to start, but haven't gotten around to.
Today's Podcast episode is all about overcoming those fears, getting past any roadblocks and getting started on your first, or next, project today!
There is no better time in history to get started with an online business and in today's episode, I'll provide the motivation to get you to take that action necessary, to achieve that success you are looking for down the road.
It isn't easy to take that first step, but you can never achieve your wildest goals and dreams, if you don't take action now.
Whatever is holding you back, put that aside.  No more excuses, no more setbacks.  Take that first step today.  Your future self will thank you!  🙂
Be sure to listen in for full details.
Also, if you are looking to purchase Long Tail Pro, be sure to grab my $55 discount off their annual plan, through my special link below.
And please, if you are experiencing any problems that are preventing you from taking action, stop over to our Private FB Mastermind group. 
Introduce yourself and let us know what is holding you back and we'll help you overcome those hurdles, so that you can get started today!