Podcast: Play in new window | Download
Subscribe: Apple Podcasts | RSS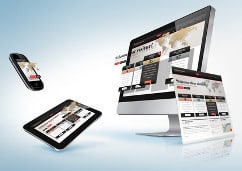 As you may have heard, Google is coming out with what I'm calling the Google Mobile Friendly Algorithm Change, on Monday, April 21st.
Based on everything I've read, this will be bigger than past Panda and Penguin updates!
Here is what you need to know…
On April 21st, Google will begin rolling out their Mobile Friendly Algorithm Change and it is expected to make the biggest impact on that day, with things finishing up over the remainder of that week.
What does that mean for me?
As of April 21st, you will most likely see a change in rankings and traffic coming from mobile devices.  This does not affect traffic or rankings coming from desktop devices.

If your posts and pages are already mobile friendly, those rankings and traffic should increase.  If not, they will most likely decrease.
How much of my existing traffic comes from mobile?
You can find that out by heading on over to your Google Analytics account. From there, select the site you are interested in and then go to Audience -> Mobile -> Overview.

You can see that roughly 20% of my traffic, over the time period selected, came from Mobile/Tablet devices: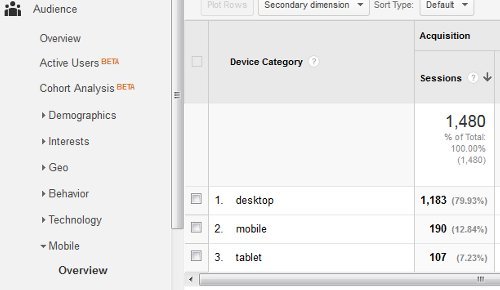 How can I find out if my posts and pages are mobile friendly?
1)  Go to Google on your mobile device and in the search box type site:www.yoursite.com, with no spaces. 

For example, I would type site:www.nichesitetools.com
That will display all of your posts and pages that Google has indexed.  If they are mobile friendly, you will see the "Mobile Friendly" tag underneath each one, if not, they are not considered mobile friendly.
2)  Use the Google Mobile Friendly Tool here:
https://www.nichesitetools.com/googlemobiletest
Then plug in the URL of the posts or pages you want to check.  If you are good it will say: "Awesome!  This page is mobile-friendly."
If not,  Google will offer suggestions that you can follow to make your page/post/site mobile friendly, which should be tailored to your specific platform, such as WordPress.
How can I make my posts/pages mobile friendly?
The best way would be to utilize a mobile friendly theme, such as Divi or Nexus, from Elegant Themes (aff link).

Another method would be to utilize a plugin like WP Touch Mobile.
What if I can't update my posts/pages/sites in time?
The good news is that you can still make your content mobile friendly after that date and the next time Google crawls your site, they will re-evaluate each post/page to see if it is mobile friendly.

However, I would strongly recommend trying to meet that deadline, if at all possible, to get the greatest potential benefit from the upcoming change.
References


How Big Is Google's Mobile-Friendly Algorithm? Bigger Than Panda Or Penguin
New Google "Mobile Friendly" Algorithm To Reward Sites Beginning April 21
Conclusion
This rollout promises to have a huge effect on mobile traffic and rankings. Are you ready? Hopefully you will be able to take advantage of the change and experience an increase in traffic and rankings as a result.
Be sure to keep an eye on your Google Analytics account over the next few weeks and either leave a comment below, or head on over to our Private FB Mastermind group and let us know how it goes!