Podcast: Play in new window | Download
Subscribe: Apple Podcasts | RSS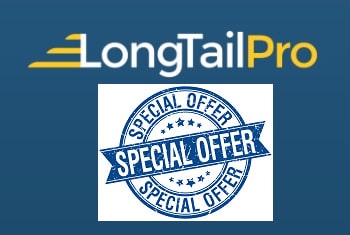 In this month's Podcast Episode, I provide full details on an excellent
$47 one-time-payment special for Long Tail Pro
(AF).
Additionally, I also provide an exact keyword research process that you can follow and specific recommendations on how to get the most out of your Long Tail Pro limited time special offer.
Below you will find show notes and additional specifics regarding this great offer. I highly recommend you take advantage of this special offer, before it is gone for good.
Long Tail Pro $47 One Time Payment Special
For a limited time you can get Long Tail Pro for a single one-time fee of just $47, that will provide you with 10,000 search results that never expire.
Many of you know Long Tail Pro switched to a subscription based model over a year ago, with typical monthly rates ranging between $37-$147 per month.
This limited time special provides you with FULL access to Long Tail Pro, with all the great features like the Keyword Competitiveness (KC) scores, keyword profitability, competition analysis and they are also throwing in a bonus of free access to their Long Tail SEO Bootcamp 7 day video training course.
The only catch is that you are limited to 10,000 search results. That is a LOT of search results and the great part is they never expire. The only other potential issue is this deal may end at any time.
Background Info
I just found out about this deal myself when site visitor Peter reached out this week and wanted to know if this offer was legitimate, as it seemed too good to be true. I actually responded initially saying I don't believe it is a valid offer, but I would look into it for him.
Much to my surprise, after reaching out to their affiliate manager Heather, she did confirm it is a valid offer. When I asked how long this offer will be good for, she said she would try to keep the offer open until the end of July 2018, but there are no guarantees.
Conclusion
Keyword research is an essential step to help find profitable keywords to target for your niche website and blogging projects. It can also help find terms and phrases to target to get your content to rank higher in Google and other search engine providers. Having the right tool can make all the difference in the world.
This is a great opportunity to get access to the best keyword research tool out there, Long Tail Pro, for a single, low one-time-fee of just $47. This is the tool that I personally use for all my keyword research, so if you have any questions at all, don't hesitate to reach out!