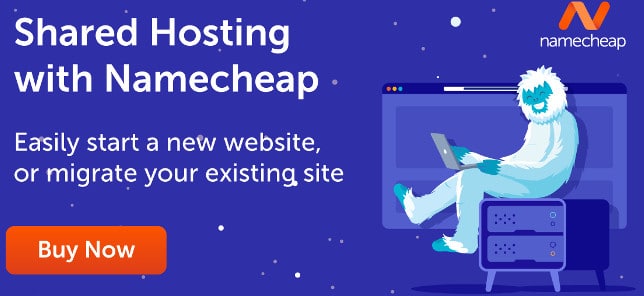 If you're looking for insanely fast web hosting and would like to save some $$ in the process, check out Namecheap's Hosting Deals in effect right now.
I recently switched over to the Stellar 3 website hosting package and within 24 hours they migrated all my websites and data over seamlessly for free, with no issues. Wow my sites are crazy fast now, we're talking sub 1 second load times!
On top of that, during the current special their Stellar hosting plan is only $21.88 for 1 year or $37.88 for 2 years. After that, it will renew at only $42.88 per year, still less than half of what I was paying previously.  The sub-second website load times are a nice added bonus.
This deal could end any time, so be sure to grab it while it lasts.
Why Choose Namecheap?
As you may know, I've utilized Namecheap for all my domain hosting needs for 10+ years and I've been very happy with their service, support and prices as well.  They've been around since the year 2000 and have a proven track record, which is so important when it comes to hosting all of your website assets.
The transfer process was so quick and easy. You click a link to initiate the transfer, provide the requested information and submit. Within an hour, I received a response from support that they were beginning work to backup my existing sites and would be migrating the data once that is complete.
The next morning, I received an email that the transfer was complete, with full details on how to test the websites on the Namecheap side and how to make the final switchover.
Support was knowledgeable, fast and most importantly they did exactly what they said they would, ahead of schedule.
Conclusion
If you're looking to save a bunch of $$ on your existing web hosting, and/or thinking about starting a new website or side-hustle, Namecheap will be my recommendation going forward for both web hosting and domain hosting.
I can say that with confidence, given my past and recent experiences and you can feel confident in your decision to choose Namecheap as well.
Be sure to take advantage of the existing Namecheap deal while you can.
If you have any questions at all, please don't hesitate to reach out. The best way to reach me is via email to chris (@) nichesitetools.com
Thanks and if you do sign-up, congratulations ahead of time on a great decision. Enjoy the great prices and incredible speeds!
Please note that the link above is an affiliate link. At no additional cost to you, I will earn a commission if you decide to make a purchase. Thank you for your support in this way.