Podcast: Play in new window | Download
Subscribe: Apple Podcasts | RSS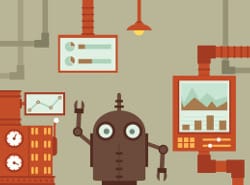 When it comes to A/B Split Testing your website, I'm sure you've heard the advice before. It boils down to
test early, test often, test everything
.

Good advice in general, but if you are early on in your niche site adventures, I feel your time is far better spent creating your core content and building that audience.
If you don't yet have the traffic and following, it can be difficult to determine if improvements are the result of split testing, random chance or false positives.
You need a large enough sample size in terms of visitors, subscribers, conversions or whatever metric you want to test, in order to properly evaluate the results of split testing experiments.
That said, I'm not here to discourage you from split testing. I merely wanted to throw out there in case you are in the early stages of building your niche websites.
If you fall into that category, don't get bogged down with trying to do everything at once. Split testing is something you can focus on down the road, once you start to get a steady flow of traffic, subscribers and sales.
However, if you are starting to make progress on your sites and are a bit further along, A/B Split Testing can certainly help you take things to the next level.
Tool of the Week


Until recently, most of the recommended commercial tools to help with A/B Split Testing, required monthly fees.  Fortunately, that is no longer the case!
Optimizely is now absolutely free for up to 50,000 unique monthly visitors for 1 website and/or mobile app, per account.
That is great news, since Optimizely has always been one of the most recommended tools out there for A/B Split Testing. If you haven't experimented with split testing just yet, now would be a great time to give it a shot.
If you are on the WordPress platform, all you need to do is install the free Optimizely plugin, activate, click the link to get your API key, generate that on the Optimizely site and then copy/paste that into the plugin and hit save.
Then, any experiments you set up in your account on the Optimizely site, will immediately be active on your website.
In the limited time I had to try it out this week, it really does seem pretty slick. You can change everything from headlines to colors, to call to action links, to images, etc.
Then when new visitors come to your site, by default half of the visitors to your site will see your initial, or control version and the other half will see the modified version. You can change the defaults and fully control all aspects of your experiments.
Then, over time, you can track which version results in more of whatever it is you are trying to measure, whether that be clickthroughs, subscribers, sales, etc.
Optimizely has a Learning Academy, where they walk you through exactly how to get started with Split Testing, in addition to an online community.
I have absolutely no affiliate relationship with them, I've just always wanted to try them out and am glad to pass along the details here to you today.
Links Mentioned in the Podcast

Social Media Examiner Podcast: Split Testing Episode
Conclusion

Have you ever wanted to try out Split Testing, but didn't know where to begin? Planning to give Optimizely a try?
Drop a comment below or head on over to our Private FB Mastermind Group and let us know how things go!