Podcast: Play in new window | Download
Subscribe: Apple Podcasts | RSS
March 30th, 2021 Update: 
You can now get access to all the great Thrive plugins and tools as part of the new
Thrive Suite
.  Individual Thrive products are no longer sold separately.  Please check out the link for full details.
In today's Podcast Episode, I talk all about how to build great looking WordPress landing pages and posts, with the help of the Thrive Landing Pages/Content Builder/Lightbox bundle.
When it comes to building great looking landing pages and review posts, you've probably found that the default WordPress editor doesn't exactly make things easy.
It is important to have the right tools for the job that allow the right level of customization to make things look exactly how you want, but you also want some great professional looking Landing Page templates to use as a starting point.
That's where the Thrive Landing Pages, Content Builder and Lightbox bundle comes into play.
You get all 3 components for a one time only fee of $67 for one site or $97 for an unlimited number of websites.
That is a great deal, especially when you consider alternatives such as Lead Pages will run you $25-$49 per month.
In just 2-4 months time, the Thrive Content Builder, Landing Pages and Lightbox bundle will have paid for itself, vs Lead Pages.
Thrive Landing Pages / Content Builder Examples
As mentioned on the Podcast, I did a sample post that shows you a number of the different elements that you can add manually to your posts and pages utilizing the Thrive Content Builder editor by itself…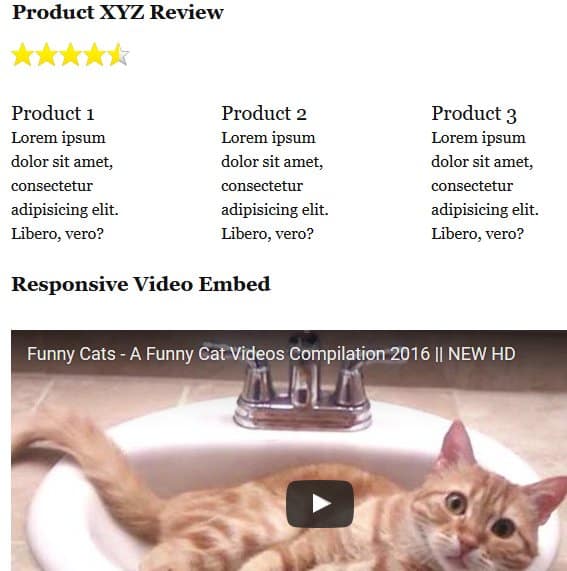 In addition, you can check out all 150+ done-for-you Landing Page templates that are included here.
On that page you will see all of the currently available templates that are part of the Landing Pages Plugin and you can click each of them to see a full preview.
All of landing pages are fully customizable and the folks at Thrive are constantly adding new landing pages to the product.
The great part is that you can utilize the Thrive Landing Pages bundle on any WordPress theme that you're currently using. There are no special requirements, other than you need to be running WordPress.
If you're looking to quickly and easily create great, professional looking review posts and landing pages, you should definitely consider the Thrive Landing pages bundle.
It has everything you need at a much cheaper, one-time-fee, over the popular competing products out there.
Click here to check out the Thrive Landing Pages bundle.
If you have any questions about the Thrive Landing Pages bundle, drop me a comment below or reach out via email on my contact page. Thanks and enjoy!
____
I'm an affiliate for products that I utilize on my sites, including products from Thrive. If you click through my referral links, at no additional cost to you, I will earn a commission if you make a purchase. Thank you for your support in this way.