Podcast: Play in new window | Download
In episode 9 of the Niche Site Tools Podcast, I compare several of the most popular training programs on how to successfully sell on Amazon.
Below are each of the courses mentioned in the Podcast and a brief description.  Check out the Podcast for further details.
Amazing Selling Machine

This is the course that Brian Leyde and Chris Guthrie are promoting, based on Brian's success utilizing the Amazon FBA program.  This program involves sourcing products from suppliers (mostly overseas), processing the items, shipping them to Amazon and then Amazon fulfills the orders.  This product was recently re-launched this month and the price is $3,497.
If you are interested, check out the great bonuses that Chris Guthrie offers at his site here.
Amazon Boot Camp

This is the course from Jessica Larrew, that was recently featured on Pat Flynn's Podcast Episode 99.  She primarily sources products from local retail stores.  Her program includes a forum with assistance from moderators.  60 day money back. Cost is $299.
There are several, additional monthly paid options for a private 'inner circle' group for $99 extra per month as well as private coaching available for $500/mo.
Dewable Premium Access

This course is from Andy Dew.  His primary method is sourcing products from other websites.  This course also  focuses on outsourcing components of your selling on Amazon business using Virtual Assistants.  Free week trial and 30 day money back.  Cost is $249.
He also offers two different paid newsletters with both basic and advanced product ideas for $19.99/mo, $49.99/mo or $349/yr that are above and beyond the main course, but are not required.
Proven Amazon Course

The Proven Amazon Course, put together by Jim Cockrum, is the one that I decided to go with for several reasons.
I really liked that they have a private forum, moderated by his staff and top students in the program, to answer any questions you might have along the way. In addition, they also provide a private FB mastermind group as well, which is quite active from what I've seen so far.
The program includes full lifetime access to the course and it is always being updated with new material. Here is a screenshot showing the new items being released this month, with the Power Brand System and Importing Profitable Products From China, being the two I was most interested in checking out first.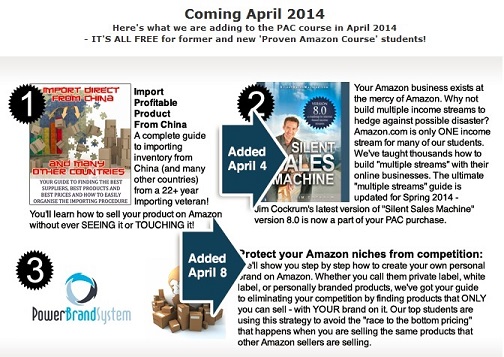 The program also comes with a no questions asked, full money back guarantee.  Cost $247.
I just purchased the course myself, on Saturday for that same rate.  Here is a screenshot of my receipt. You can also check out two screenshots from within the course, one of the main content page and another showing the private members forum.  You can see that the main page is organized into different categories and the forums are also separated by topic as well.
Those wishing to purchasing the Proven Amazon Course, or for more info click here.
That is my affiliate link.  If you decide to make a purchase through my link, I will receive a commission, at no additional cost to you.  You are of course under no obligation to go through my link, but if you do decide to do so, I sincerely thank you ahead of time!
Conclusion

I hope this Podcast episode/post helped bring to light some of the potential training courses currently available to help you set up a successful online business selling on Amazon.
Whatever you end up deciding, I wish you the best and hope you will come back and share your thoughts, experiences and success stories here in the near future!
Like this post? Please share!
{ 4 comments }