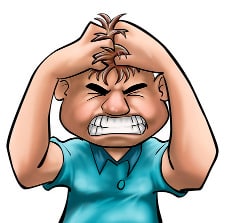 Podcast: Play in new window | Download
Subscribe: Apple Podcasts | RSS
In this weeks Podcast Episode, I talk about several of the unavoidable frustrations with Affiliate Marketing and give you some actionable advice on how to prepare for and overcome them, when they inevitably occur.

This is a super important episode that I will let primarily stand for itself in audio format, as I think you really need to hear it from me directly, to get the most out of it.
Tool of the Week – Market Samurai
Due to the recent pricing model change for Long Tail Pro in the previous few weeks, I was asked by several folks if I could recommend a cheaper alternative.
After some extensive research this week, the best option available by far is Market Samurai.
Much to my surprise, out of the 8 main keyword research tools that I found most mentioned and recommended, the only one that actually had a lower cost was Market Samurai and the great news is that it also the only one with a one time fee for lifetime access and upgrades.
Regular price is $147, but if you go through my link and sign-up for the free trial, no credit card required, you will get an offer to purchase the software for only $97. That is more than 35% off.
That special pricing will only be available for 6 days during your free trial, so be sure to take advantage of that special during that time, to get the best rate.
I mentioned all of the products I looked into and their prices in the Podcast Episode and I will also do a quick separate post in the next week or so, on the topic.
Here are two of my prior, very detailed posts, on how to utilize and get the most out of Market Samurai, complete with specific examples.
How to Choose a Niche Website: Keyword Research
How to Choose a Niche Website: SEO Competition
If you have any questions at all, don't hesitate to ask and thanks for being a part of the community!