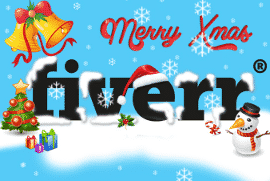 I am a big fan of holiday decorations, especially ones that I don't have to set up myself!  😉
Along those lines, I came across a Fiverr gig for a holiday makeover for any logo and really liked the examples shown.
I purchased the gig myself for another site first and the results exceeded my expectations and the turn around at the time was less than 2 hours. Can't beat that for $5!
Afterwards, I started to play around with my logo here, but after about 20 minutes of getting no where fast, said to myself, "Why am I wasting my time on this when I can have exactly what I want by just spending another $5?!"
So I purchased the same gig for this site and really liked how things turned out.
Sometimes you just have to realize your limitations (graphic design is not my forte) and if you can outsource a specific task and get great results for an amazingly low price, I'd highly recommend trying to do so if you can swing it.
I hope you like the holiday logo, I think it adds a fun, festive touch.  If you'd like something similar for your own site logo, definitely check out this particular gig.  He is great and the turnaround time is super fast.
I just realized that he actually sent 2 different holiday versions of my logo, one I am using as the logo on the full site and the other I will utilize as the header for the emails that go out for new posts.  Awesome deal and only $5, highly recommended!
Speaking of holiday decorations, the wifey and I went to Disney World for the Thanksgiving weekend and they REALLY know how to do up the holiday decorations right!
The castle and the decorations that you see right upon entering the Magic Kingdom are really amazing.  Below are a few pictures from the weekend to get you in the full holiday spirit.
For those folks in the US, I hope you had a wonderful Thanksgiving and for all my Jewish friends out there, Happy Hanukkah as well!