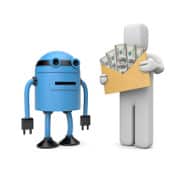 If you plan to promote affiliate products as part of your online adventures, and I definitely think you should, you will undoubtedly come across ClickBank.  They have one of the largest online marketplaces of affiliate products to promote.
I previously detailed some of the shortfalls of ClickBank and they mostly centered around the unfriendly payout policy for newbies.
In order to qualify for a payout, you must make a minimum of 5 sales from at least 2 different payment methods.  For example, if you have 5 sales, they can't all come from PayPal.  You would have to have at least 1 from another payment method such as Visa, MasterCard, Discover, etc.
In addition, if you make a sale and then do not have another sale within a 90 day period, you will start to incur dormant account fees.  This can be a bit tough for someone just starting out, as those first few sales can take a while.
But fear not, after doing some extensive reading on the topic in the last few days, I realized this is quite a common problem and of course, where there are problems, people develop solutions.
Free eBook On How To Stop Losing ClickBank Commissions
I found a free eBook called ClickBank For Newbies and it is written by one of the top ClickBank Gurus, Harvey Segal, owner of the ClickBank Guide site, the ClickBank Success forum and author of other best selling eBooks about ClickBank.
The concept of the eBook is simple.  You want to get 5 sales as cheaply as possible, from at least two different payment methods and put that payout issue behind you and get back to creating great content for your niche site(s).
The free eBook was designed specifically with this idea in mind, to allow ClickBank newbies a method to overcome the shortcomings of the payout system.
Again, the eBook is free, but there are two primary products or bundles available in the eBook.  The Silver Package is only $3.  For $3 you get a ClickBank Promotion Guide as well as the ability to re-brand the free eBook for your own use.
You can then turn around and offer a link to the free eBook on your own site and any sales you make of the $3 Silver Package would count as affiliate sales for you.  Providing a very inexpensive way to get those required sales.
For $27 you can purchase the Gold Package, which gives you the same options in the Silver Package, but you can also collect affiliate commissions from not only the Silver Package, but the Gold Package and any future upsells that the author offers in the future.
If you are interested in the Gold Package, which is not at all required, I have a tip.  Purchase the Silver Package instead initially.  You will then receive an offer to purchase the Gold Package for only $14 instead of $27.  I ended up doing that myself.
So what exactly does that mean?  
The bottom line is that you want a way to be able to offer a useful, but inexpensive product on your site to be get those first 5 sales out of the way.
The easiest way to do so would be to offer a $3 product.  Anyone serious about doing anything online can part with $3, especially if it is something that they can benefit from as well.  This is one of those products.
So you download the ClickBank for Newbies free eBook.
You purchase the $3 Silver Package.
You re-brand the free eBook via the steps they will provide and you make your link available to others.
Once you have the eBook re-branded and a link available on your site, it's just a matter of making 5 sales of only $3 each and you'll be good to go!
Can I purchase through my own ClickBank links?
I searched long and hard as to whether buying through your own link is against the TOS of ClickBank and according to this thread on the Warrior Forum, it is not specifically against their TOS, it is more of an ethical type question.
In my opinion though, it is unethical for ClickBank to have the stringent payout policy which is particularly painful for those just starting out in the first place, so you can make your own judgement there.
In that thread someone specifically mentioned that all you need to do to get around the dormant account fees and the minimum of 5 sales, is purchase a $3 product through your own affiliate link or convince friends/family to do so.
That same method is what I'm proposing to get past the 5 sales requirement to qualify for payout.  All you have to do is download the free eBook, purchase the $3 Silver Package to get the ClickBank Promotion guide and re-brand the eBook for your own use/promotion.
Then just convince a few folks to spend the $3 to do the same and we're past the restrictions and can stop worrying about whether we will get paid for our efforts and can get back to creating great content and working on our niche sites.
Conclusion
I wish I had found out about this little workaround earlier, as I would not have lost out on a prior commission a while back and would not have almost had the same thing happen now.
The reason I did the research is because I'm sitting on a $30.49 commission from a sale of the OptinSkin plugin and I was about to hit the 90 day dormant account fee.  I was determined not to let this one go to $0.
I downloaded the free eBook, purchased the Silver Package for $3, went for the $14 upsell for the Gold Package (not required) and then re-branded the eBook and tried out my link.
Since I was 88 days from my last sale, I was about to incur dormant account fees.  To avoid that, I went ahead and purchased the same $3 Silver package through my own link to test it out and I now have another 90 days.
Since I now have 3 total sales, 1 sale from over a year ago, the recent Optin Skin Plugin sale and now the sale of the $3 Silver Package, I believe I just need two additional sales of the $3 Silver Package and the ClickBank restrictions will be no more.
If you are a ClickBank affiliate or plan to promote affiliate products in the future, definitely download the free eBook and check it out for yourself.  I hopefully did a good job explaining the problem and the solution, but if not, the eBook should do a good job of filling in any gaps.
I hope this will help a lot of folks that like myself, that through no fault of their own, are subject to the restrictions of the ClickBank payout policy, probably unknowingly in most cases.
If you do make a purchase, I will receive a commission of a whopping $1.37 for the Silver Package, but more importantly you'll be helping me get those elusive 5 initial sales.
The steps mentioned here are an unfortunate, but necessary step in most cases in order to make sure that you get paid the affiliate commissions that you rightly deserve.  Don't let your ClickBank commissions go to $0 unnecessarily!
Upcoming Post
As I mentioned to my email subscribers yesterday, I converted over from FeedBurner to MailChimp for my email subscription list.
If you are on my email list, you should receive an email with this post on Tuesday.  If you are not on my email list, you should be!
You can join here, via the OptinSkin box at the bottom of this post or by using the subscribe option in the side bar.
You will get notified by email for all new posts and you will also receive my free eGuide on Keyword Brainstorming immediately after subscribing as a welcome gift.  I will never share/sell my list and this is a spam-free zone!
If you have not yet created your own email list, you need to.  My next post will be about how you can get started utilizing the free version of MailChimp to setup your own email subscription list, as well as how you can convert over from FeedBurner or pretty much any other subscription plugin such as Subscribe2 or the JetPack plugin.
I'm super excited about the new options that MailChimp provides and am looking forward to sharing them with you.
Until then, best wishes for success with your online adventures!