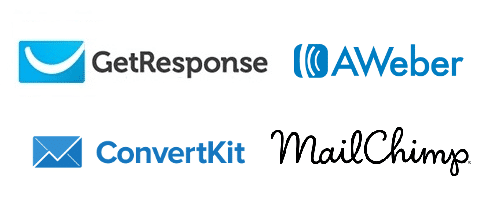 Podcast: Play in new window | Download
Subscribe: Apple Podcasts | RSS
In today's Post / Podcast Episode, I provide full details on why (I think) my MailChimp account got banned and describe how that could easily happen to you as well.
In addition, I provide all the pros and cons of my 3+ weeks of in-depth research comparing GetResponse, AWeber and ConvertKit.
Be sure to listen in to the Podcast Episode for the specific pros and cons of each and for ways to save money and get more cool features in the process.
GetResponse vs AWeber vs ConvertKit vs MailChimp
When I started my research, I set out to find the best all around Email list services for the money, for folks with a list between 0 and 5,000 subscribers.
Each provider had to have all the basic email services you would need, like the ability to build lists, collect opt-ins, send emails, create newsletters, send out RSS to Email campaigns and auto-responders.
I then narrowed things down based on cost and arrived at 3 final choices that I did in-depth research and testing on. Those were GetResponse, AWeber and ConvertKit.
Below is a quick summary of the pros and cons of the service that I ended up choosing and highly recommend going forward, GetResponse.
Pros and Cons For GetResponse vs AWeber and ConvertKit

In the Podcast Episode, I provide full details as to why I ultimately eliminated the others and went with GetResponse. I definitely recommend you listen in for full details, but here are the highlights…
Pros
Cheaper than AWeber / ConvertKit and lots more features; $15 for up to 1000 subscribers, $25 for 1001-2500 subscribers and $45 for 2501-5000 subscribers
24/7 Chat Support +M-F 9-5 Phone/Email Support
Workflows: This is an awesome feature that allows you to do things based on what a subscriber does. For example, if someone opens a particular email or clicks a link in an email, send them a specific email or tag them with a label or any number of other cool things
Over 500 mobile responsive email templates to choose from
Custom opt-in forms such as top/bottom of site bar, forms that shake, slide-in forms and exit intent pop-ups
Ability to create and utilize a Landing Page for opt-ins
Online Surveys Included
Can grow into the service with the ability to upgrade to Pro for unlimited Landing Pages, Webinars and advanced eCommerce features like cart abandonment options in the future
In business since 1998; Excellent email delivery rates
Cons
No pro-rated refunds; Eliminate this as an issue by paying monthly
Not completely obvious that you need to change both your "From:" and "ReplyTo:" addresses when initially creating your list
Conclusion
In conclusion, my decision ultimately came down to a decision between AWeber and GetResponse, but in the end I chose GetResponse because they are cheaper at all the main price levels and offer a lot more great features as well.
If you have any questions at all about any of the services mentioned on the show, let me know. Over my 3+ weeks of testing I got to know many of the services very well and would be glad to answer any questions that you might have.
As email list service provider is one of those essential services every blogger or niche website creator needs to have.  GetResponse is my choice going forward and I think you should definitely give it serious consideration as well.
To try out GetResponse with a free 30 day (no credit card required) trial and also receive a $30 account credit if you become a paying customer, check out my link below…