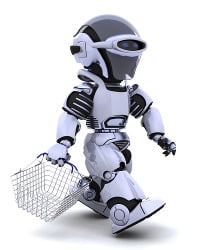 Podcast: Play in new window | Download
Subscribe: Apple Podcasts | RSS
This week's post/Podcast episode is a question from Marcus.  He mentioned that his state no longer allows folks to participate in the Amazon Associates affiliate program and he asked what other alternatives are available.

That was a great question and one that I know other folks have as well, since many other states are on that list and new ones get added or removed depending on various tax law changes and politics.  The list of banned states can be found in the Enrollment section of the Amazon Associates Operating Agreement.
As far as other similar programs available, there are lots.  eBay, Target, Walmart, Best Buy and Home Depot, just to name a few.  For a full breakdown, check out my previous post that I just updated, comparing those affiliate programs in detail.
I had planned to highlight two other services, one called Viglink and the other called Skimlinks, as a way to get around the Amazon Associates ban in certain states, but Amazon contacted both companies and forced them to disallow Amazon specific commissions from folks residing in one of the banned states. Further specifics can be found here.
Depending on the amount of income derived from the Amazon Associates program, some other possible alternatives could be to incorporate in a different state, partner with someone that is not in a banned state, or sell any Amazon focused sites on a place like Flippa.com or Empire Flippers. Be sure to do your due diligence if considering any of those options.
Question For You
I would like to ask you guys if there are any particular paid tools or training programs that you are considering purchasing in the near future, that you would like to know more about?
It has been a while since I've evaluated a new tool or training program and while I could just randomly pick one, it would be much more relevant if that suggestion came from you guys out there in the community.
If you have any suggestions, please drop me a quick email and let me know.  Thank you ahead of time!
Next Week
Just a quick FYI, we will not have a post/Podcast episode next week, due to the July 4th holiday.  I will be visiting family and celebrating the holiday with them.
I hope everyone has a great two weeks and for anyone in the USA, I hope you have a very happy and safe Independence Day weekend!