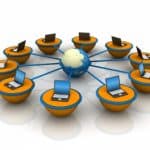 In my prior posts on keyword research and sizing up your competition, I helped you figure out how to choose potentially profitable keyword phrases, helped you narrow things down and showed you how to quickly identify whether or not you stand a chance of being able to compete for a spot on the first page of Google for your keyword phrase.  If you haven't yet gone through those step-by-step posts, I highly recommend you check them out.
Assuming you followed along with my prior posts and have either identified a killer keyword phrase of your own to target or are following along with my vintage baby clothes example, I will now show you how you can get started on duplicating the success of your competitors by finding out where they are getting all their links from.  Those links to your site from other sites are called backlinks.
Be sure to follow along by downloading the 12 day free trial of Market Samurai.  It is available for both Mac and PC and all you have to do is provide a name and email address and you will receive an email to download the software right away.
"If you build it, they will come…" is a phrase from the movie Field of Dreams, but unfortunately that is not usually true for niche sites when you are starting out.  You can have the greatest content in the world, but if no one is aware of your site, you will get very little traffic.
What you need to do is figure out where your competitors are getting all of their links from and duplicate their methods/efforts.  No sense in re-inventing the wheel, they already blazed a trail and ended up on the first page of Google, all you need to do is follow that trail.  With Market Samurai, that is an amazingly simple process.
Rather than write out the steps, I decided to show you with a short video.  For our vintage baby clothes example, the video will show you exactly where the competition is getting their links from, it will show you some of the tactics our competition is using to get those links and I will offer up additional suggestions for other ways/places to get additional backlinks.
Keep in mind of course, that Google would rather all of your backlinks were natural, coming only from people that love your content and want to share it. Unfortunately, that isn't common, especially when starting out.
Please excuse the audio quality, it was done back in 2012, utilizing the built in microphone on my laptop.  I thought it sounded good at the time, but times have changed!  😉
If you're curious how I created the video, I utilized Camtasia Studio.  It is a very powerful software package that allows you to do screen captures videos and a whole lot more.  Check out my resources page for further details. 

The forensic/behind-the-scenes work shown in the video is quite fun.  It is like being your own private investigator.  You can even utilize the same steps in the video to see where your own site, or the site of a friend, is getting links from.  Just go to the main Market Samurai screen, start a new project and type in the domain name instead of a keyword phrase.  Then go to the SEO Competition module and go through the same quick steps in the video.  Very cool stuff.
If you followed along with my entire series of posts, you have all of the information to identify a killer keyword phrase, size up your competition, register your own domain name and establish web hosting and you now have the details on where/how to get backlinks for your site.  All you need to do is start creating that epic content and get started on those backlinks!
By now you truly see the power and simplicity of having all of that information available through the only tool you need, Market Samurai.  It really is a great product and you get everything for a single, one-time fee, which includes free updates and support for life.  With the 35% off discount email that you receive during your free trial, that one time fee is $97. 
Thanks for following along and if you have any additional questions, comments or suggestions, please let me know by leaving a comment.  I welcome all constructive criticism.  Also, be sure to subscribe via email below to receive the latest post updates and my free eGuide: Top 10 Killer Keyword Brainstorming Tips.
In full disclosure, I receive an affiliate commission if you decide to purchase the Market Samurai software, at no additional cost to you.  You will also be eligible for a 35% discount if you sign-up during the first 6 days of your free trial, which is exactly what I did when I purchased the software myself.  If you do decide to purchase the software, thank you ahead of time.  I truly appreciate it.