I've been on a Podcast kick lately, listening to one on the way to or from work for a few weeks.  I thought I'd share my favorites that I think you will enjoy and benefit from.  I also find they're great to listen to when doing mundane housework like putting away laundry, cleaning up, putting away dishes, etc.
I'll include the link to the Podcasts on iTunes and their descriptions, but you don't have to have or utilize iTunes to listen to them. You can use whatever application you'd like on your phone, PC or tablet and just search for the Podcast name and you will find them.
In case you don't have a Podcast app, for Apple devices just install the Podcasts app from the App Store.  Another free alternative is Stitcher, available for both Android and iOS.
Now, on to the Podcasts, in no particular order…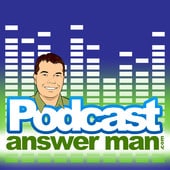 Podcast Answer Man
This is THE PODCAST about Podcasting! Helping you take your show to the "next level." Whether you are a brand new podcaster, been podcasting for many years, or haven't yet launched that first episode, this is where to turn to help you take your show, and everything else you pursue, to the "next level." Cliff Ravenscraft started podcasting as a hobby in 2005, launching the Generally Speaking Production Network (gspn.tv). Together with his wife and a few close friends, Cliff has produced over 3,000 podcast episodes devoted to Entertainment, Family, Faith, Fitness, Career and Technology. Submit your question as voice mail feedback at 859-795-4067 or record it as an audio file and email it to feedback@gspn.tv.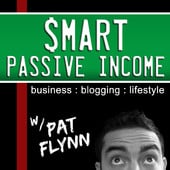 The Smart Passive Income Podcast
Pat Flynn from The Smart Passive Income Blog reveals all of his online business and blogging strategies, income sources and killer marketing tips and tricks so you can be ahead of the curve with your online business or blog. Discover how you can create multiple passive income streams that work for you so that you can have the time and freedom to do what you love, whether it's traveling the world, or just living comfortably at home. Although Pat confesses he is not a millionaire, he's been supporting his family 100% with passive income generated online, easily earning a six-figure salary while working only a few hours a week. Automation, outsourcing, crowdsourcing, search engine optimization, building authority and trust, niche sites, social media, Facebook, Twitter, YouTube, Podcasting, eBooks, online courses, affiliate marketing, getting things done and everything that works (and doesn't work) to help you better understand how to crush it with your online business.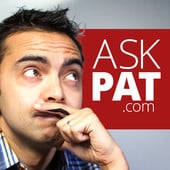 AskPat.com Podcast
I'm Pat Flynn, a regular guy who happens to be a successful online entrepreneur. You may know me from my other podcast, Smart Passive Income, which is consistently ranked as a #1 business podcast. I love hearing from my fans, and boy do they love sending me questions 🙂 That's why I've started the AskPat podcast. AskPat is a brand new, DAILY podcast. Each episode features an actual question submitted from someone like you! I won't be able to answer everyone's question, but I'll do my best to get through as many of them as I can. Now, plug in those headphones because it's time to learn together about online business, entrepreneurship, internet marketing, audience building, passive income, blogging, list building, virtual assistants, startups, search engine optimization, email marketing and so much more. #askpat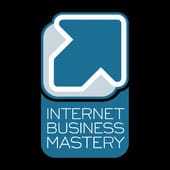 Internet Business Mastery Podcast
Learn how to create an internet based business, unleash a flood of traffic and trigger explosive profits in the new social media age. Internet Business Mastery teaches you how to use Web 2.0 strategies combined with classic internet marketing principles to build passive income streams and brand yourself as an expert (or even an online celebrity). Whether you're starting a new business or looking to augment your current one, you'll discover techniques that will boost earnings, increase lead generation and extend your personal/business brand. You'll learn tools and techniques such as search engine optimization, social media marketing, social network marketing, email list building, blogging, podcasting, online viral video and much more. We're dedicated to teaching you not only the skills but also the mind set necessary to succeed as an internet entrepreneur. We want to help you to use your ideas and expertise to make money and open up to opportunities so that you can have the freedom and income to pursue the lifestyle you want. We've been the #1 internet business podcast since 2005. Join our community that contains thousands of listeners dedicated to becoming an internet business master.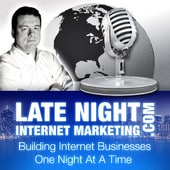 Late Night Internet Marketing Podcast
The Late-Night Internet Marketing Podcast helps people succeed at internet marketing. Each episode contains helpful tip, interviews, strategies and advice about running an online business.
____
I just updated this post, as one of the original Podcasts that I mentioned above is no longer publishing new episodes and I also wanted to add in the new AskPat.com podcast. Since I also just published my very first Podcast several days ago, I wanted to mention that here in hopes that one day maybe I'll make your top 5 list!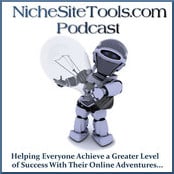 Niche Site Tools Podcast
The Niche Site Tools Podcast shares real life experiences and the best tips and tools, to help you achieve a greater level of success with your online adventures. Topics will include affiliate marketing, niche site creation, search engine optimization, social media, online courses, Podcasting and everything you need to go from surviving to thriving!