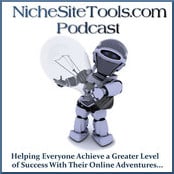 Podcast: Play in new window | Download
Subscribe: Apple Podcasts | RSS
Welcome to the very first episode of the Niche Site Tools Podcast!

I am super excited to have a Podcast available for you today and honestly, I'm quite nervous as well!  😉
Thanks to a recent tweet from Jeremy Frandsen over at Internet Business Mastery, I decided to go with progress over perfection and make it happen.
I commit to bringing you a new episode at least every two weeks, but most likely more often once I get the hang of things.
The Podcast is now available in iTunes here, but some of the details are still updating.
I'd really appreciate it if you would subscribe and listen via iTunes or your favorite mobile app. The more subscribers and listens, the more visibility the show will get.
I'm not going to do any heavy promoting for the Podcast just yet, as I'd like to get a few more episodes posted first.  In that way I can show some different topics and hopefully a nice improvement in quality. I'd also like to get some feedback from all of you out there as well.
Eventually, I'd greatly appreciate some 5 star reviews and would be sure to give ya a shout-out on a future show, but I know we're not quite at the 5 star level just yet.
Podcast Summary
In this episode, I will detail how you can get started making money online without spending a single dime.
I go through some of the main pros and cons of utilizing the Blogger platform and below I will list several examples of posts that I've had success with over the past 3 years with my personal blog running on Blogger.
Once you get the hang of things and decide where you want to take your online adventures, you will definitely want to progress to having your own web hosting.
I recommend Webhosting Hub for that, but if you are brand new, I wanted to make sure you are aware that there is a completely free option available to you.
Even if you do happen to be a seasoned veteran, with your own web hosting and WordPress site(s), you may want to consider having a free Blogger site as well.
If you're been doing this for any length of time, you know that you will need backlinks to build rankings and traffic. Having one or more free sites off to the side, is great for linking to and highlighting posts from your other sites.
Resources and Items Mentioned in the Podcast
These are examples of posts on my Blogger site that have resulted in sales and affiliate commissions:
Best Pet Water Fountain – Drinkwell 360 Stainless
Dr Elsey's Precious Cat Litter Ultra Rocks!
Another way to promote your other niche sites is to set up a blogroll, which I have in the right hand column of that site. When you publish new articles on your other sites, they will automatically be linked to in the blogroll.
Info from Cliff Ravenscraft on Adding Music To Your Podcast:
Podcast Answer Man Episode on Adding Music to Your Podcast
Here is the microphone that I am utilizing to record the show, it was one recommended by Pat Flynn in the lower priced category:
[easyazon_link asin="B004QJOZS4″ locale="US" new_window="default" tag="1063939-20″ add_to_cart="default" cloaking="default" localization="default" nofollow="default" popups="yes"]Audio-Technica ATR2100-USB Microphone[/easyazon_link]
It is great, but I now realize after listening to the podcast, that I definitely need a pop filter and just ordered this one below. I also need to pull back from the microphone a bit. Those two steps will definitely help to cut down on the hard P sounds for the next episode. Stick with me, I promise it will get better over time!
[easyazon_link asin="B00ACFAULC" locale="US" new_window="default" tag="1063939-20″ add_to_cart="default" cloaking="default" localization="default" nofollow="default" popups="default"]Neewer Studio Microphone Mic Wind Screen Pop Filter Mask Shield[/easyazon_link]
I hesitated slightly before putting the podcast out, since I think the audio could definitely be improved.  However, that was when the theme of progress over perfection came back to mind.
Don't let the idea that something is not perfect or 100% where you want it to be hold you back. No one is perfect, continued forward progress is the key to long term success. Just continue to improve over time and keep taking that next step forward!
Definitely let me know what you think, drop me a comment below or email me to chris "@" nichesitetools.com And if you have any questions that you would like answered or ideas for topics that you would like covered, please let me know!