In case you are new here, welcome!  And a special thanks to all those that recently subscribed to my email list, I really appreciate it!  If you haven't subscribed just yet, please do so by adding your email at the bottom of this post.  In that way you'll receive the latest updates directly to your inbox.
Forever Affiliate Update
As I mentioned in a recent post, I started in on a brand new affiliate marketing program for 2013 called Forever Affiliate.  It is an excellent program that details step-by-step on how to get started making $$ online by creating affiliate/niche websites.
Affiliate marketing is basically just promoting the products of others and getting a commission if someone purchases the product.  Sometimes the commissions can be as high as 50% or more of the product price.  It is a great way to get started, because there are very low upfront costs, you don't have to create or keep an inventory of any products, you can do all the work yourself by following the steps in the program and within several weeks time you can have a website up with several pages of great content, free traffic coming in and your site will start to rank for your targeted keywords in Google.
Rather than start from scratch like I was SUPPOSED to do, I had an existing affiliate site that I setup over a year ago that has been sitting idle with no traffic, that I wanted to try and resurrect first.  Since it was over a year ago, I obviously did not follow the steps in the program on how to choose the product, how to identify the profit potential, how to pick the right keywords, choosing the domain name, etc.  So this was more just an attempt to take some of the steps and try and adapt them to this previously dormant site.
Following only the link/traffic building steps in the program I now have 57 unique domains linking to my site, with 1022 total backlinks.  I am ranking for several long tail keywords in Google, with one of the primary keyword phrases at #22 overall.  However, I have not hit the first page of Google for any of the target keywords just yet.  I continue to see more unique views each day and since the end of March when I started my link building, I have 718 page views, 301 total visits and 239 unique visitors.  My average visit duration is also a respectable 3 minutes and 17 seconds and the target for these type of affiliate sites is anything over 3 minutes, so there are a few bright spots: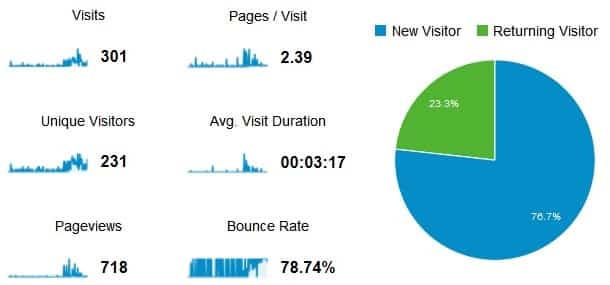 However, since I've reached the completion of the link building stage and have not generated any sales at this point, I need to stop where I'm at right now and not spend any more time/effort on this particular site.  The way the program works is that you build out several sites to the point I'm at right now with this one.  You only go forward with the sites that have resulted in sales at the completion of this stage.  In that way you're only spending your time on sites that you know will convert.
Stopping now is particularly important for this site, since it was not chosen based on any of the required criteria from this program.  I still have faith that this site will result in sales, but I will just let it percolate at this point and now that I have a lot of referring domains and backlinks, the more that time passes the more links that will automatically build up on their own and traffic will increase.  Once a sale does occur, I can circle back around and revisit things then.
I was originally planning to try and come up with 2-3 new site ideas and work on setting up those sites by Sunday, but I was finding it to be a daunting task to try and come up with multiple ideas and plans at the same time.  I had been looking for new site ideas on and off for about a week with little to no progress.
Luckily, I found Pat Flynn's most recent post on focusing your efforts on only one thing at a time, right when I needed to hear that.  So instead, I shifted focus to finding 1 new site idea and just like that, the process became so much easier.
I identified a few sets of potential keywords and narrowed things down and applied to be an affiliate for the one and I am currently awaiting a response.  I've included a link to that post and all of his most recent posts/podcasts below.  If you are at all struggling with ideas for a website, or anything in life for that matter, take what he says to heart.  Take the time to focus on one thing at a time whenever possible and I think you will find as I did, how much more you will accomplish and how much easier the whole process will be.
If you're at all interesting in online adventures and attempting to make $$ for your efforts, at least check out the Forever Affiliate link for the full details to decide for yourself it if is something you'd like to pursue.  And if you do decide to order the product through my link, we have a private Forever Affiliate Facebook group in progress that currently has 55 other like minded individuals all trying to achieve success and affiliate sales by following the detailed steps provided.  If you would like to join, drop me an email after you sign up to chris at nichesitetool dot com.
There have been so many great questions/answers/tips/tricks posted in that group and really it is a great motivational tool as well as we hold each other accountable to making progress each week.  There are posts daily from others on what is working, what stumbling blocks we've run into, how to get past them, questions and answers, etc and all skill levels are represented.
It is great to be able to learn and share so much with a great group of highly motivated like minded individuals.  This is my first "Mastermind" type group and it has exceeded even my high expectations.  The experience continues to be an invaluable resource that will ultimately result in the success of the overall group as a result of all of the very open sharing from all the members.
Niche Site Duel 2.0
I became aware last week that Pat Flynn will be firing up the old Niche Site Duel machine and having another go at it with version 2.0!  If you're not familiar with Pat Flynn, first off, where have you been?  😉   I'd wager a guess that he's probably one of the most read/down to earth guys in the Online/Internet Marketing arena.  I am just one of SO many folks out there that credits Pat Flynn and all the great info on his Smart Passive Income blog as the motivator for getting started with building an online presence/business.
His original Niche Site Duel was one of the most popular series of posts/podcasts/videos on his site and he shows from start to finish the process he went to develop his own site from start to finish, which still, almost 3 years later ranks #1 in Google for "Security Guard Training" and generates several thousand dollars per month every single month and is pretty much hands off at this point.
All the recent Google Algorithm changes over the last year or two have really changed some of the methods for how to get your site to rank and bring in traffic.  As a result, Pat wanted to dust things off and find out from all his expert friends in the field just exactly what is working right now to start a site from scratch, get it to rank on the first page of Google, bring in traffic and generate sales in 2013.
This kinda goes hand in hand with the Forever Affiliate program, because the steps laid out in that program all take into account what is working in 2013 to get your site to rank and bring in sales.  So the Niche Site Duel 2.0 should really complement what we're already learning and working on and should reinforce those methods.
I plan to not only follow along with Pat, but will also participate by setting up my own site utilizing the Niche Site Duel 2.0 steps Pat lays out in real time.  He is currently interviewing some of the top guys in the field of Internet Marketing on his most recent podcasts and he will be taking pieces from each of them to devise his own system.  He will be 100% transparent as always and will share his results in real time via his blog and podcast.
If you are interested in following along, check out his 3 most recent posts on the subject here:
SPI 066 : Niche Site Duel 2.0 (research interview) – SEO and Keyword Research with Spencer Haws
SPI 067 : Niche Site Duel 2.0 (research interview) – Neil Patel on How to Rank a Website Today
Niche Site Duel 2.0 – Criteria and Thoughts for Keyword and Niche Selection
SPI 068 : The Most Powerful (and Toughest) Productivity Tip to Implement
Niche Site Duel 2.0 (research post) – Effective & Long-term Link Building for Niche Sites with Jon Cooper
Niche Site Duel 2.0 – Let's Do This! Expectations and How to Participate
Niche Site Duel 2.0.1 – How to Conduct Keyword Research and SEO Analysis (Free and Paid Methods)
I will also keep you updated on this site as well, both when Pat comes out with any new details and once I get started with the Niche Site Duel 2.0, I will provide as many details as possible on my progress.  If you've always wanted to start some online adventures, but just haven't gotten around to it, now is the perfect time!  It will be a wild ride I'm sure, with SO much to learn.  I am really looking forward to the results and hope you will join in on the journey!