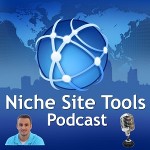 Thanks to a suggestion from Matt, an email subscriber on the site, I went back and created an introductory episode for the Podcast this week. Great idea Matt!  Definitely check out that post/Podcast episode.
To find the new episode in your favorite Podcast app, go in and refresh the feed for the show and you should then see it listed, right before episode 1.
In this new introductory episode, I provide info on what the site/podcast are about, where things are heading and give full details on my background and how I got started with my online adventures.
I wasn't quite sure how to go about inserting a new episode 1 into my Podcast feed, so I sent the question over to Cliff over at PodcastAnswerMan.com and he answered it on last week's episode.
That was super cool and you can check out his response by pulling up episode 367 of his show in your Podcast player, or you can play it here.  The question/answer starts at the 3:30 mark.
Plugin or Tool of the Week
Another email subscriber, Charlie also had a great suggestion. His was to include a "plugin or tool of the week" in each Podcast episode.
That is a great idea and I will definitely be doing that going forward, starting with episode 19 next week. I already have a great plugin in mind, so be sure to check it out!
WordPress Themes
Several folks also mentioned that they were interested in the topic of themes and they asked if I had any suggestions on what theme to utilize and how to convert from one theme to another.
That is another excellent topic, especially because I have been doing the research on themes and converting to a new theme is something I plan to do very soon as well.
I will definitely be covering the topic of themes and how to switch over to a new theme in the coming weeks.  I do have a specific theme in mind and will be sure to provide you with all the details soon.
I've always utilized the Thesis 1.8 theme, but sadly, the time has come to update.  It has been a great run, but that version hasn't been updated in quite a while and it is not at all mobile friendly.
I know the main steps on how to upgrade to a new theme, but because Thesis has a lot of built in SEO optimization, I want to be extra careful to do things right, so that I don't affect my existing rankings/traffic.
For that reason, I posed the question on how to upgrade to a new theme to Mark Mason, over at LateNightIM.com.  I know that Mark is familiar with Thesis 1.8 and he's been doing this for quite a while.
He responded to my SpeakPipe message and said it was a great question and one that he would cover in full detail on either his next Podcast episode or the one after.
So I am definitely looking forward to his response and once I have that info, I will plan out my upgrade and provide you guys with the full details on exactly what theme I'm going with and how to go about upgrading or installing a new theme, here on the site.
New Podcast Artwork
And one other thing, I decided to update my Podcast artwork over the weekend as well.  The suggestion from Matt to hear a bit more of my personal story also motivated me to personalize my Podcast logo a bit.  You can see it in the upper right corner of this post.
I took a look in my Podcast app and noticed that most folks I follow have a small image of themselves somewhere in the logo, so I decided to add one myself for that slightly more personal touch.
Conclusion
I hope you like the changes and where things are heading!
Thank you SO much for everyone that has reached out via email over the last few weeks!  I greatly appreciate it!
If you haven't had a chance to reach out and you have feedback or suggestions, head on over to the contact page and leave an email or voice message via SpeakPipe and you may even be featured on the show!
Thanks again and have a fantastic week ahead!