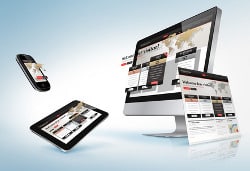 Podcast: Play in new window | Download
Subscribe: Apple Podcasts | RSS
In this week's post/Podcast episode, I discuss the recent developments coming out of Google in regards to mobile responsiveness.
As we all know, mobile is becoming an increasing part of online traffic.  As such, Google is starting to place a greater emphasis on whether a site is mobile friendly or not.

In the latest development, Google said in this post (dated Nov 18, 2014) that they will be introducing 'mobile friendly' tags in search results.  That is something brand new, that I've noticed has already started to appear in search results on mobile devices.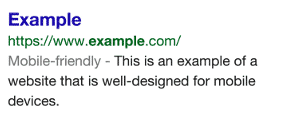 In addition, they took it a step further and provided a tool to check to see if your own site is mobile friendly and if it isn't, they also have a guide and specific suggestions on how to make your site mobile friendly, along with some common mistakes to avoid.  You can find all of those links in the references below.
Thanks to Darren Rowse, over at ProBlogger, for posting this article and bringing it to our attention.
References:
Google Mobile-Friendly Test
Google Webmasters Mobile Guide – How to Create and Improve Your Mobile Site.
Google Mobile Usability Report – Report in Google Webmaster Tools, which highlights major mobile usability issues across your entire site, not just one page.
Google How-To Guide for Third-Party Software – Specific tips for like Content Management Systems (CMS) such as WordPress or Joomla.
Tool of the Week
The tool of the week is directly related to the topic of mobile responsiveness and it is the WPTouch Mobile plugin.
This plugin provides a quick and easy way to make your site more mobile friendly, without having to modify your existing theme.  I utilize the free version, but there is also a pro version that comes with more themes and customization options.
I look at this as more of a stop-gap, band-aid type fix.  I think in the long term, it may make more sense to convert over to a more mobile responsive theme, such as Elegant Themes, however if you're looking for a quick easy way to make your site more mobile responsive right away, WPTouch Mobile is definitely worth checking out.
On thing of note, if you are using any sort of caching plugin like W3 Total Cache or WP Super Cache, there are settings you will need to make in your caching plugin to get WPTouch Mobile to work properly.  You can find more details here.
Conclusion
It is becoming increasingly clear that Google is paying more attention to mobile responsiveness and for good reason.  If more and more folks are relying on mobile devices for their web surfing, it makes sense to provide them with the best experience possible.
The better the user experience, the more traffic you will get and the longer someone will want to spend on your site, decreasing bounce rate, increasing engagement, etc.
Mobile responsive tags in search results are just the first step towards bringing a greater awareness of the topic.  I think in the very near future sites will either be rewarded for having a mobile friendly site, or penalized for not.
Now is definitely the time to jump on-board, whether it is through a plugin like WPTouch Mobile, or putting a plan in place to upgrade your site to a fully supported, mobile friendly platform like Elegant Themes.
Did you test out your site via the link above?  How did you make out?  Are there any particular issues that you have questions or concerns about? 
Drop us a comment below and let us know!