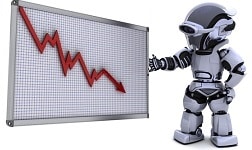 Back in Feb/March of 2013, I went through the Forever Affiliate program and created 2 different affiliate niche sites.
In the spirit of transparency, today I will reveal full details from affiliate site 2, which I label as a failed attempt at this point in time, along with some comparison stats from site 1.
If you've been following along here on the site, you know what the Forever Affiliate program is, but for anyone that is new, I will explain very briefly.
Forever Affiliate is an all-inclusive, step-by-step training program created by Andrew Hansen, on how to create affiliate sites from scratch.  It includes everything from where to find the right affiliate products to sell, how to setup your website, exactly how to get good free backlinks to your site and some additional suggestions for when/if your site does begin to receive traffic and affiliate sales.
Affiliate Site Reveal
Without further adieu, site #2 is http://www.learnspanishsimply.org (which I have since let expire).  It is an affiliate site created to promote Rocket Spanish, which is an online language learning program.
That site is setup exactly as suggested in the Forever Affiliate course, so you can get a very good idea of how you could go about creating an affiliate site from scratch. I would suggest however, that at a minimum, you add an additional "About" page to connect with folks on a more personal level.
I came across the idea for the site when my wife and I were planning a trip to Mexico. We both know a bit of Spanish from our high school and college days, but we were looking for a way to brush up a bit. I went through the free-trial of the product and thought it was a good product to promote.
On this site, I decided to make my first attempt at outsourcing. I outsourced the creation of all the content you see on the site.
Andrew Hansen had a few of his recommended content creators listed in the program material, so I gave it a try.
I was very happy with the content, it was a 5 article pack for $50 and it took about a week to receive.  I only had to do small grammar fixes before publishing, but I did go in and add some testimonials from customers and threw in some graphics here and there as well.
I rate this site as a failure for a few reasons:
The site gets very little traffic, less than 10 unique visitors per month
I was unable to rank in the top 20 on Google for any phrases that I targeted
I was interested, but not passionate about the topic and gave up about 60% through the backlinking process
Around that same time, we had actually taken our trip to Mexico and I lost interest in the whole idea of wanting to brush up on my own Spanish as well.
While I do believe you can create a successful affiliate site without being 100% passionate about the product or service you are promoting, if you're not seeing any results, a lack of passion certainly makes it more difficult.
Show Me The Stats
To prepare for this post, I checked my latest stats and the traffic data remains the same. Less than 10 unique visitors per month.
However, I found it interesting that I am ranking #1 for the phrase "rocket spanish overview", but on Yahoo, not Google. My highest Google ranking is 24th. The stats for Bing were all dashes, which basically means I wasn't ranking for any of the phrases, so I excluded those results.
Here is a capture of the ranking data utilizing the free Firefox plugin – Rank Checker: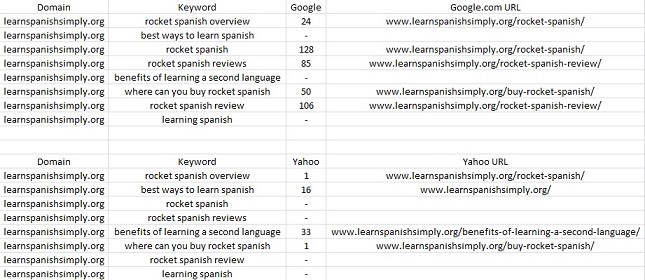 The fact that I'm ranking #1 for "rocket spanish overview" on Yahoo and I'm getting less than 10 unique visitors per month overall shows that probably very few people are searching for that phrase.
To see if anyone is searching for that phrase on Google, I checked the stats real quick in the Keyword Planner and sure enough, there was a "-" shown. Basically no one is searching for that particular phrase.
I then went back and found the stats that justified creating the site in the first place and they were as follows:
rocket spanish 2400
rocket spanish review 1000
buy rocket spanish 91
review rocket spanish 16
reviews of rocket spanish 12
The same numbers as reported now are as follows:
rocket spanish 1800
rocket spanish review 390
buy rocket spanish 30
review rocket spanish 10
reviews of rocket spanish 10
The numbers coming out of Google now are much lower than they were a year ago. I'm not exactly sure if that is a result of people searching less for those phrases or if that has to do with the new way that Google is calculating those numbers with the introduction of the keyword planner, I suspect the later.
Had I gone in and done the research on Rocket Spanish now with those same phrases, I likely would not have proceeded. There are still lots of other related phrases that could have been chosen, but they are more broad in nature and more competitive.
I most likely will not spend any additional time or effort on that site. As with all niche site adventures, you will have a certain percentage that just don't work out.
If you create 10 sites for example, 5 might completely bomb, 3 might do ok and 1-2 might be successful. So, the more you can create the better your chances of success.
It's similar to stats for a baseball player. A .300 batting average is considered great. That means that you're hitting 30% of the time. In order to hit those doubles, triples and home runs you need to keep coming up to the plate and keep swinging.
Successful Niche Site Comparison
In comparison, I will provide some quick stats for my Forever Affiliate site #1.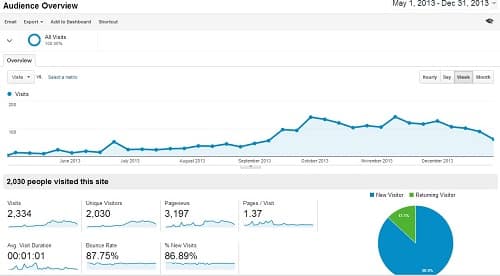 That is the Google Analytic data from May 1st-Dec 31st of last year. Other than the traffic drop at the right side of the chart, that looks much better than a flat 10 unique visitors per month on site 2.
The drop towards the end of the year is expected, as it was holiday season and this product isn't one that most people would be shopping for during that time. The average unique visitors during Oct and Nov was right around 500 per month.
In addition to the steady traffic increase, I've also had 3 sales of this product.
I remain passionate about this site and continue to build backlinks, but only at the rate of about 1 per week via blog comments.
I haven't created any additional content on that site in about 2 months, but there are 485 different long tail keywords showing in Google Analytics that I could choose from for future posts.
Conclusion
I hope the honest results from both sites give a glimpse into the affiliate site creation process and potential results, both positive and negative.
With the new year just underway, I suspect that many of you have goals in relation to your existing niche sites or may have some plans to create new niche sites in 2014.
If so, I am here to help in any way possible! If you have any questions at all, please don't hesitate to ask. Leave a comment, hit me up on Twitter, Facebook or feel free to email me as well to chris "@" nichesitetools dot com