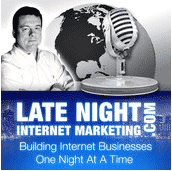 Podcast: Play in new window | Download
Subscribe: Apple Podcasts | RSS
In this week's Podcast episode, I'm excited to have a guest star, my man Mark Mason (from
LateNightIM.com
) and his response to my question about what things to consider, when switching from one WordPress theme to another.

If you're not familiar with Mark's site/Podcast, definitely head on over and let him know I sent you. Mark is a great guy and we've interacted a bunch over the last couple of years. Not to mention he has a real catchy Podcast jingle, that I can't stop singing every time I hear it! 🙂
I credit Pat and Mark, as the two primary guys that gave me the motivation to get started and for getting me to where I am today.
So thanks for the response Mark and for all you do to help others like myself and my viewers/listeners to succeed online!
Tools of the Week
Inspectlet – Heatmap and user session recording
GT Metrix – Site speed check and performance analysis tool
Elegant Themes – Recommended WordPress theme
What did you think of Mark's response?  Considering a switch to a new theme?  Did today's information give you some ideas to consider and some actionable content to move forward?  I hope so!
Let us know in the comments below, thanks!