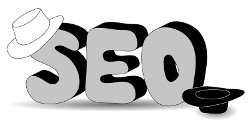 Podcast: Play in new window | Download
Subscribe: Apple Podcasts | RSS
This week's podcast episode was a suggestion from email subscriber Sara.  In episode 25, we cover the differences between White Hat, Gray Hat and Black Hat SEO.
Reference items mentioned on the show:
White, Gray, Black Hat SEO Infographic
UPDATE:  Check out this post from Spencer at Niche Pursuits that just came out today, showing a huge Google penalty for him and Perrin on multiple sites, most likely a result of using some Gray/Black Hat SEO tactics, specifically Private Blog Networks (PBNs) for backlinks.  In the post he says he is done with Private Blog Networks forever.
Wow, very timely and a very dramatic hit for those guys.  I immediately went over to my Webmaster tools account and did not have any messages or drops in traffic to report.  Perfect example of the risk you run when straying too far from the White Hat side of things.
Plugin / Tool of the Week


The tool of the week is the Easy Azon 3.0 WordPress Plugin. That is the plugin that I utilize and recommend for anyone interested in promoting products on Amazon as an affiliate.
You can check out my full Easy Azon review post and if you are interested, be sure to grab it through my affiliate link to get over 20% off the regular price.
You are of course under no obligation to go through my link, but if you do I sincerely thank you ahead of time!
Conclusion
Were you curious about what this White/Gray/Black Hat SEO stuff was all about?  Are there things you are doing, or thinking about doing, that you are concerned might fall into the Gray/Black hat category?   Drop a comment below and let us know!