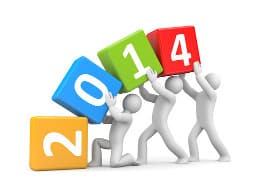 Site Direction
First I wanted to say thanks to Dave and Srini for your feedback on my last post in regards to where I should take the site/domain name going forward!
Surprisingly the advice across the board was that I should continue with the direction I have been taking things and to just switch over to NicheSiteTools.com as opposed to a complete re-branding.  That was the way I was leaning over the last few days as well.
I had no big desire to take the site into a completely different direction.  I like where things are going and how things are progressing and will continue to add more value/content and expand things out a bit.
So that is great.  My plan will be to move the site over to NicheSiteTools.com and I'll re-do the logo and Facebook page to reflect the new name.  You can utilize either name right now, NicheSiteTools.com is currently a 301 redirect to NicheSiteTool.com.
Goals for the New Year
Speaking of the new year, it is time to look back at goals from the past year and start thinking about goals for 2014.
As I heard Pat Flynn say on a recent Podcast, it is actually a better idea to have shorter duration goals, like monthly or bi-weekly goals rather than to wait until year end, but I do still like the idea of having "big picture" yearly goals as well.
I personally like to set a few different categories of goals.  They usually fall into Health/Wellness, Financial and Online Adventures.  Yours may be different, go with whatever fits best for your particular situation.
I follow the S.M.A.R.T. guidelines, which stands for Specific, Measurable, Attainable, Relevant and Time-Bound.
Try and be as specific as possible when crafting your goals.  The more detailed the better.
Since this site is all about the online adventure piece, I will detail some of my goals for this upcoming year here to not only stimulate ideas of your own, but to hold myself accountable as well.  Making your goals public on a forum such as this really does help to keep you focused and on-track.
Online Adventure S.M.A.R.T. Goals for 2014: 
Migrate site to NicheSiteTools.com, create new logo and update Facebook page.
Continue to promote email list, gain 50 subscribers by June and 100 by year end.
Increase Facebook page likes to 50 by June and 100 by year end.
Publish at least 1 piece of new content per week on this site and 1-3 updates per week on the Facebook page.
Create 3 additional niche sites with at least 1 additional Forever Affiliate site, one Amazon focused site and 1 AdSense focused site and share whatever details are possible here.
For all niche sites, reach the Google AdSense payout threshold of $100 by June.  Bring in affiliate income of $500 by June and $1000 by year end.  Bring in Amazon Affiliate sales of $100 by June and $250 by year end.
Attend at least 1 relevant Meet-Up group event or conference.
I also have some non-SMART, more subjective goals as well:
Achieve a greater level of one-on-one interaction with other like minded folks in the online niche site space. Truly engage with at least 3 folks on a much more personal level. Of all of my goals here, this is the one I plan to focus on most and the one I'm looking forward to the most as well. I envision interacting with others on a regular basis via the Facebook page, Twitter and then taking things a step further possibly through mastermind groups, direct email interactions, perhaps a Google hangout and maybe in person meetups. I really hope to share my passion and bring value to others on a much bigger scale and hopefully the other goals will just fall into place.
Continue to focus daily on my Single Motivating Purpose (SMP): to share experiences, tips and tools with other like minded folks to help everyone achieve a greater level of success with their online adventures. This kinda goes along with the goal above.
Look into additional ways to be everywhere, including expanding out to include a Podcast, video updates and/or Twitter feed.
Your goals can and probably should be somewhat dynamic in nature.  I recommend referring back to your goals on at least a quarterly basis, preferably monthly.  Take a look back, see how far you've come, how close you are to meeting those goals and if you're falling a bit short, you know where to put some additional focus.
Most importantly, keep at it.  Don't get discouraged.  The goals are there to help keep the focus and to give you something to shoot for.  If situations change, they can be adjusted along the way.
When setting goals, definitely make them Attainable (A).  For instance, if last year you brought in $10 to your AdSense account from niche sites, a nice goal to shoot for might be to get $20 by June and $40 by year end.
You might be super energetic and be ready to really jump start things and want to set a goal of $100 by June and $1000 by year end, which would be great to achieve and shoot for, but the likelihood that you're setting yourself up for disappointment is much higher.
On the other hand, be sure to build in some growth into your goals.  Give yourself a new higher level to shoot for.  A level that you might not think is doable right now, but given the right level of focus and effort is possible.
If you are unfamiliar with setting SMART goals, I think you'll be pleasantly surprised at the results you can achieve when you put forth the effort to define you goals.  Be sure to get them down in writing.  It doesn't have to be on a public forum, but definitely write them down, put them in a Google doc or maybe in Evernote on your favorite device and keep them handy.
Conclusion
I hope you had great results over the past year, but more importantly I hope that through our interactions on this site and the Facebook page, email or any other means, that we can all work together to help each other achieve our goals and have a huge amount of success going forward!
Please let me know if I can be of assistance with your online adventures in anyway!  And I really mean that. I certainly do not know everything and I'll be the first to admit if that is the case on a particular issue, but I will definitely do my best to get an answer.
And just in case I don't get back to posting these next 2 weeks, I hope you all have a very Merry Christmas and Happy New Year!   Great things ahead for 2014!