Podcast: Play in new window | Download
Subscribe: Apple Podcasts | RSS
In Episode 17 of the Niche Site Tools Podcast, I highlight 2 great free plugins, Inspectlet and ManyContacts. I also address some of the questions I've had over the last few weeks, in regards to how my AdWords Campaign is going.
Items mentioned in the Podcast
Adwords Campaign Results – Many have asked how my first AdWords Campaign is going after listening to the first or second episode on the topic. So far so good. I started to hit my daily $4 limit after creating my second ad and increasing my bid rate for the terms I am targeting, so I upped that to $5/day.
Here are the results, which are updated, from July 21, 2014: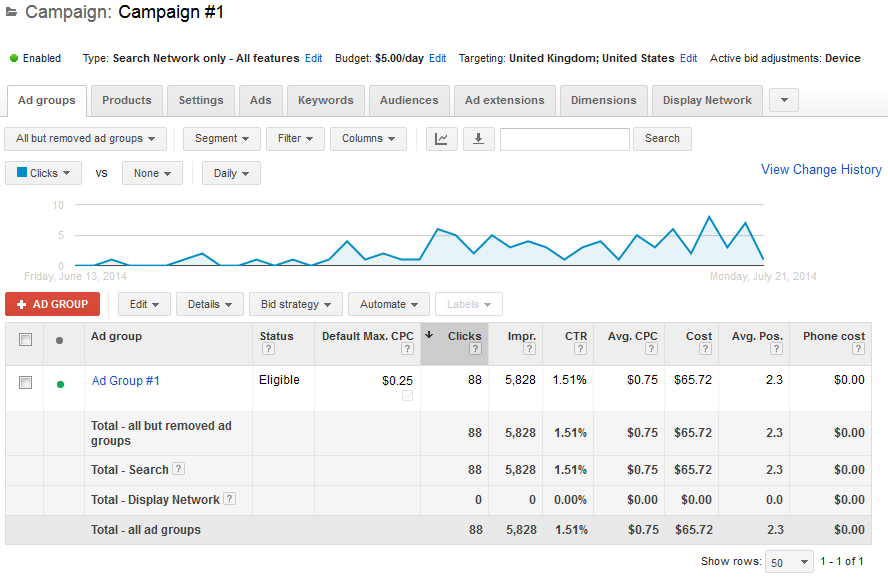 As you can see, I have a total of 5,828 impressions and 88 total clicks at an average rate of 75 cents per click. I'm pleased with the results as far as how often my ad is showing and the overall number of clicks, based on my max of $5 per day max. However, I do not have additional sales thus far.
My plan is to continue to fine tune things and also I plan to get in touch with Google another time, to see if they have any more suggestions based on how things are going now. I will be sure to keep you posted on the progress there.
Inspectlet – Plugin that provides heatmaps of your site and also records user sessions. Similar to others that I've seen mentioned like Clicky, except that this one is free for a limited numbers of maps/session recordings.
Here is a quick video I created, showing you an actual user session. Way cool!
ManyContacts – This is the bar that you see along the top of the site, for collecting email addresses. It is similar to Hello Bar, but Hello Bar did not work with my theme and it did not integrate with MailChimp.
This one works very well, I think it looks nice and it also goes away if someone subscribes or if they click the up arrow to make it go away. Most importantly, it fully integrates with MailChimp and other popular email programs.
Fiverr – These are the two Fiverr gigs that I recently utilized to create a script and video for my Forever Affiliate site.
Conclusion
I hope you enjoyed the update and free tools highlighted on this week's episode! Do you have any must have tools that you would recommend checking out? Please let us know in the comments below!
I would also greatly appreciate some additional positive reviews in iTunes or on Stitcher!
Thanks and have a great week!